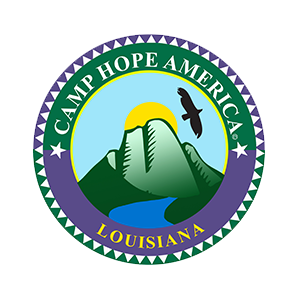 Camp Hope America
Camp HOPE America is the first camping and mentoring initiative in the United States to focus on children and teens exposed to domestic violence. Camp HOPE America began in San Diego in 2003, under the leadership of, then – San Diego City Attorney, Casey Gwinn. The program was part of the nationally recognized San Diego Family Justice Center, a collaborative of about 25 government and non-government agencies co-locating professionals to focus on serving victims of domestic violence and their children.
How does it work?
At Camp HOPE America, we have the opportunity to use fun-filled avenues to give campers a hope for a brighter future. Throughout the course of a week at camp, campers might participate in a variety of activities ranging from field games to rock climbing, tubing to high and low ropes courses, art projects to silly campfire songs, and cabin discussion to Character Trait Awards. By utilizing meaningful activities, we have learned how to create an environment where kids feel safe, seen and heard, encouraged, and cared for.
While it is mostly fun and games (which we love!), we also use an evidence and values-based curriculum that teaches campers to believe in themselves, in others, and in their dreams. During cabin small group time, campers are learning about various figures (either historical or present-day) that have overcome adversity and exhibited positive character traits. Campers are challenged to see self-application and are led in a cabin discussion with peers based around a statement of empowerment like "I am becoming my best self." This time creates a sweet bond within each cabin and also ensures a safe place to process past experiences and dream about a brighter future. The day always ends with a campfire where campers and counselors sing silly songs, discuss the story and statement of the day, answer the question "Where did you see hope today?," receive Character Trait Awards, and sing the Camp HOPE America Goodnight Song.
Why Camp Hope?
While the research on exposure to domestic violence continues to emerge, existing evidence suggests these children are at risk for increased anxiety and depression, social isolation, increased physical and psychological aggression, and a propensity to perpetuate the cycle of domestic violence. The higher the exposure to childhood trauma, the higher the rates of illness, disease, and criminality in adults. Given the prevalence of children exposed to domestic violence in the U.S. and the negative consequences these experiences can have on their future, an effective systems-level intervention is needed to provide children the opportunity to develop positive coping mechanisms that will allow them to thrive despite their difficult environments. Camp HOPE America is one such intervention with the potential for systems-level influence.
To give the gift of camp and sponsor a child, click the button below and type "Camp Hope Sponsorship" in the dedication field. The cost to provide a complete sponsorship for a child is $500.